Recommended Commercial Building Company in Whitmore Lake Area
Local Commercial & Industrial Building Contractor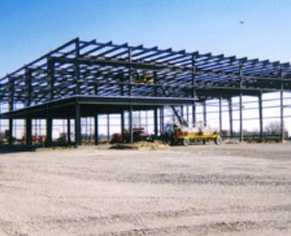 Designing and building an industrial/commercial building is a huge investment that requires time and money. Therefore, you must be careful when choosing the building contractor that'll make your dream come true.
Willis Building Company, Inc. is a family-owned and operated commercial & industrial contracting company serving throughout Whitmore Lake and the surrounding neighborhoods of Southeastern Michigan.
Handling All Kinds of Commercial/Industrial Projects Throughout Whitmore Lake
Over the years, we've extended our service menu and now design, build and develop all kinds of commercial/industrial building projects. We handle a wide array of construction projects including healthcare, retail, warehouses, hospitality, recreational, religious and senior living.
We Keep You in the Loop Throughout
Upon taking your project, we work closely with you and take our time to understand your goals and expectations for the project fully. All our construction projects are done according to the client's specifications and within the specified budget.
Besides, we work on the project while keeping in mind the accompanying building amenities and facilities such as water, electricity, ventilation, and lighting. And the best part? We bring our experience and expertise with us. We'll guide you on the project so you can develop a building you'll live to cherish.
Trained, Skilled & Experienced Construction Experts
Our company takes pride in its strong team of highly trained and experienced construction experts who use state-of-the-art equipment and industrial quality building materials.
A Bonded & Certified Building Construction Company
Willis Building Company, Inc. is insured, bonded and certified to handle construction services in Michigan.
Our Commercial Construction Services:
Brand New Construction

Do you have an empty piece of land you want to develop? Let Willis Building Company, Inc. handle the project. With our many years of experience, we'll be excited to help you with the design, cost estimates, materials and then build it.

Building Restoration

There's something common about contemporary structures and those that possess historical value. Both deserve experts with many years of experience. We're sure to keep tabs with the particular requirements per the preservation grants and work in collaboration with the relevant parties. Our capabilities in handing restoration projects range from masonry repair & restoration, exterior cleaning, brick & stone replacement, sandblasting, steam cleaning to decorative waterproof coating.

Additions/Remodeling/Renovations

When it comes to building renovations, we're the go-to contractors. Our professionals will handle everything from new finishes, fixtures, trims to make your building look even better.

Building Service Repairs and Maintenance

We've been in the industry long enough and have seen it all. Any time you experience an issue with your building, call our dependable and skilled professionals to fix the problem. After all, only a builder understands commercial and industrial structures best.
For reliable, high-quality new Commercial Building, remodeling, restorations, repair & maintenance, Contact Willis Building Company, Inc., the leading building contractor in Whitmore Lake and the neighborhoods of Michigan.